Affectionately called Turbolina, this little mare is so sweet and tolerant of everybody! She lets little kids handle her and her baby, and anyone can drive her anywhere.

My silly youngest daughter hooked her up to a wheelbarrow this week. She won't be doing this anymore, but I caught it on video. Click here to see her pulling a wheelbarrow. She even pulls her on her scooter. The picture to the left was taken at the Memorial Day parade in Surprise in 2009.
Turbolina came to live with us in December of 2005. One morning, we got an email from a family in our church saying they had three Minis that they would like to give away. We emailed them back right away and said that we would take one of them and we knew another family who wanted the other two. Well, as you have probably guessed, Turbolina was that one.

These shots are at McDonald's drive thru in Wickenburg, AZ!!!
We fell in love with Turbo, and she is what started our mini rampage! We love all our minis. My youngest daughter, who was only 8 years old at the time, started breaking her to cart. The pictures above are from her first drive. Note, how the cart shafts are pointed downwards....that is a no, no, but we have learned a bit more since back then. Jess is now approaching 13 years old.
| | |
| --- | --- |
| | Turbolina's beautiful color is called a "Silver Bay." When I first saw her, I thought she was a chestnut or a sorrel, with a flaxen mane and tail. But look closer...she has dark legs and dark tips on her ears. (If you scroll up to the top picture on this page, you will see these distinctions more clearly.) The light mane and tail come from the silver gene, along with her adorable light colored eyelashes. The big difference is if she was a chestnut, she would be a red base, but being a silver base, she is a black base. Turbo also has a pinto spot and this was bred into her 2009 baby. Click here to meet her. |
This little girl is a wonderful driving horse. She has incredible action and is a very happy driver. She can out trot our stallion!!! Click here to see her running with her 4 day old baby!
To see Turbolina's pedigree, click here.
To see her 2006 baby click here, or to see a video of her 2006 baby, Buckeroo's Last Tango, click here. He was a Buckskin colt. By breeding Turbo (Silver Bay) to a Buckskin stallion, you have a good chance of producing a Buckskin miniature
To see her 2007 baby, click here.
Turbolina foaled a handsome sorrel colt on April 24, 2008!! Click here to see him!
To see her 2009 baby, click here
| | | |
| --- | --- | --- |
| Noel sits patiently on Turbolina. You can see the pinto spot on Turbo in this picture | Noel loves going for a drive! | |
The horse to the right is Turbolina's half brother who placed very well at World's as a youth horse. There are many past videos of Turbo on our website. Here is just a sampling. Turbo goes with us almost everytime we drive unless there is a baby by her side. Her 09 filly is weaning currently.

http://blip.tv/play/hP1Wga7ATgATurbolina's filly trotting in 2009
Here is the pedigree for Sundances Showtime Turbolina.
Sire
Hartins Sundance
27.5", Palomino Pinto


Top Ten in Liberty and Senior Stallions at 1998 AMHA Nationals. Has 189 points in his AMHA show history excelling in Liberty and Halter.

Sire: Hemlock Brooks Prince Cognac
30"

Sire: Hemlock Brooks Cognac

Sire: Ramundo

Dam
Hemlock Brooks Muffin

Dam: TR Heart Lights

Sire: Ramundo


Dam
Hemlock Brooks Lady of the Isles

Dam
Tinker Toys Freckles
33.5"

Sire: Tinker Toy Sundance

Sire: Hemlock Brooks Pharo

(by Dell Teras Moon Man)

Dam: Hemlock Brooks Shirley

Dam
Bat Mans Toy
ch Pinto 33.25"

Sire
Dell Teras Batman
chestnut 30"
National Champion

Dam
Moores Tinker Toy
blk Pinto 36"

Dam: NXS Koolita
32.5"

Sire: Xenophon
28.5"

Sire: Ayers Mini Blue Prince Fallabella

Sire: Ayers Mini Red Man Jr., 27" (solid sorrel)

Dam: Ayers Mini Blue Baby

Dam: Ayers Mini Thumbalina

Sire: Ayers Mini Red Man , 28.5" chestnut

Dam: Ayers Mini Buttons

Produced progeny that claimed 6 National Driving Champions and 3 Reserve National Champions

Dam: Bonita Negra
34"

Sire: unknown

Sire

Dam

Dam: unknown

Sire

Dam
Ayers Mini Red Man, 28.5"
This foundation stallion is also the Grandpa of our mare that we call "Magic" and in "Morning."

He was the 51st horse registered with the AMHA and sired 22 foals. He appears in the pedigree of a great many champions. He was registered with AMHR as Freemans Red Man. He is said to be the son of Bramamans Peppermint and out of a mare named Limpy. He is also said to be a full brother to Ramundo and Stout's Mister Pride. You will see Ramundo in this mare's top side.

Ayers Mini Man has sired some of the best conformationally correct. When the International Miniature Horse Registry transferred over to the AMHA, he was part of their merger. He has only 22 foals registered to him, the last being in 1984.


Read a fun story about Stouts Mister Pride, Ayers Mini Red Man and Ramundo by clicking here.
Ayers Mini Red Man Jr., 27"
This stallion has sired 61 foals with: two becoming National Champions and Reserve National Champion. Many of his grandget have been Champions too. One of his sons NFCS Butterscotch Boy was a National and Reserve National Champion driving horse in 1990 & 1991. He also sired one Reserve National Champion Senior mare 28" and under with her name being Davis I Love Lucy. Like his father he was originally in the International Miniature Horse Registry and was transferred over to the AMHA after their merger.

His blood runs through another one of our mares, "Morning".
Ramundo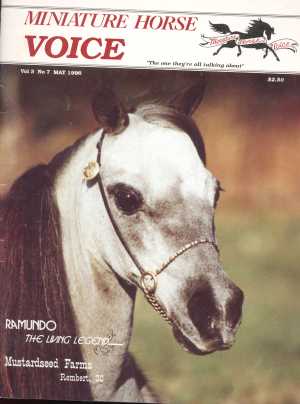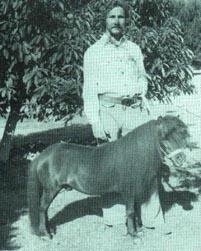 Dell Teras Moon Man