Entry page
Cowboy's most recent pictures are first. He returned home to us in August of 2009 as a rowdy one year old, who is very sure of himself. These first pictures were taken on Sept. 2, 2009. I have never seen a one year old look so mature. I would've guessed that Cowboy was 5 years old if I didn't know when he was born!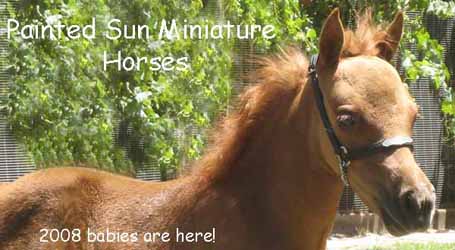 May 6, 2008 For his very first time, Cowboy went out with all the other babies! He was very interested in our cute little Cinderella, but she wanted nothing to do with him!!! We shaved his head and neck, and he is absolutely adorable! He will have great presence for the show ring, and has a very, very refined neck. His mother, Turbolina, has thrown beautiful necks on her other foals, and this one is no exception.....
He has big beautiful eyes and knows how to use them! We also are watching his trot, for there is lots of knee action. I can't wait to see how this develops!
This well-balanced boy has the presence and style to do well in the show ring. We adore the temperament of his momma, and it was this mare who caused our family to fall in love with Miniature horses. Turbolina has produced 3 beautiful colts. Her first two were as classy as this one.
Click here to see him in Halter Breaking 101
Click here to see him at 3 months
Sire: Ultra Mycall Jacksum

Sire:

Sire: NFC Blue Boys Uptown


33" Grey




Sire
Flying W Farms Little Boy Blue
28.5" Grey



Sire:
Flying W Farms Little Blue Boy
30" Grey

Dam:
Flying W Farms Sugar And Spice, solid bay


Dam:
NFC Rowdys Uptown Girl 33.75", solid black

1987
AMHA Top 8 Other Color Mares
AMHA National Top 8 Model Refined
YOUTH Classes:
AMHA National Champion Youth Showmanship, 12 to 18 Years


Sire:
Rowdy 33" Bay




Dam:
Dell Teras Black Satin, solid black



Dam:

Ultra Silhouette
30.5" bay and white pinto

Sire:
Ashbys Kid Dy No Mite,
31", Buckskin Pinto

National Champion Producer




Sire: Bond Showboy
28.5"




Dam:
Bond Pandora

Dam: Beas Bonita Cheyenne
33.5" silver dapple




Sire:
Sligo Sampson

Dam:
Bond Poco

Dam:

Sundances Show Time Turbolina

Sire
Hartins Sundance
27.5"
Top Ten in Liberty and Senior Stallions at 1998 AMHA Nationals


Sire
Hemlock Brooks Prince Cognac
30"

Sire: unknown


Dam: unknown


Dam
Tinker Toys Freckles
33.5"


Sire: Tinker Toy Sundance


Dam: Bat Mans Toy
ch Pinto 33.25"

Dam
NXS Koolita
32.5"

Sire
Xenophon
28.5"


Sire:unknown

Dam: unknown

Dam
Bonita Negra
34"

Sire: unknown

Dam: unknown
To see the rest of or 2008 babies, click here